WHY CHOOSE SYNXSOLE ORTHOTICS?

Revolutionary new orthotic

Synxsole orthotics have been designed and developed by two Australian podiatrists who have over 22 years of combined experience in orthotics and human biomechanics. The Synxsole creators are passionate about delivering a new level of comfort for people on the move.
Synxsole orthotics are premium consumer and practitioner orthotics that provide support, shock absorption and comfort to help realign the foot and lower limb and ease pain.
The innovative and revolutionary Synxsole design allows these orthotics to be amongst the slimmest, most supportive range of devices available. Synxsole orthotics are incredibly lightweight, yet are by far one of the most durable temporary orthotics in the retail market.
Synxsole combines the latest technologies in its revolutionary design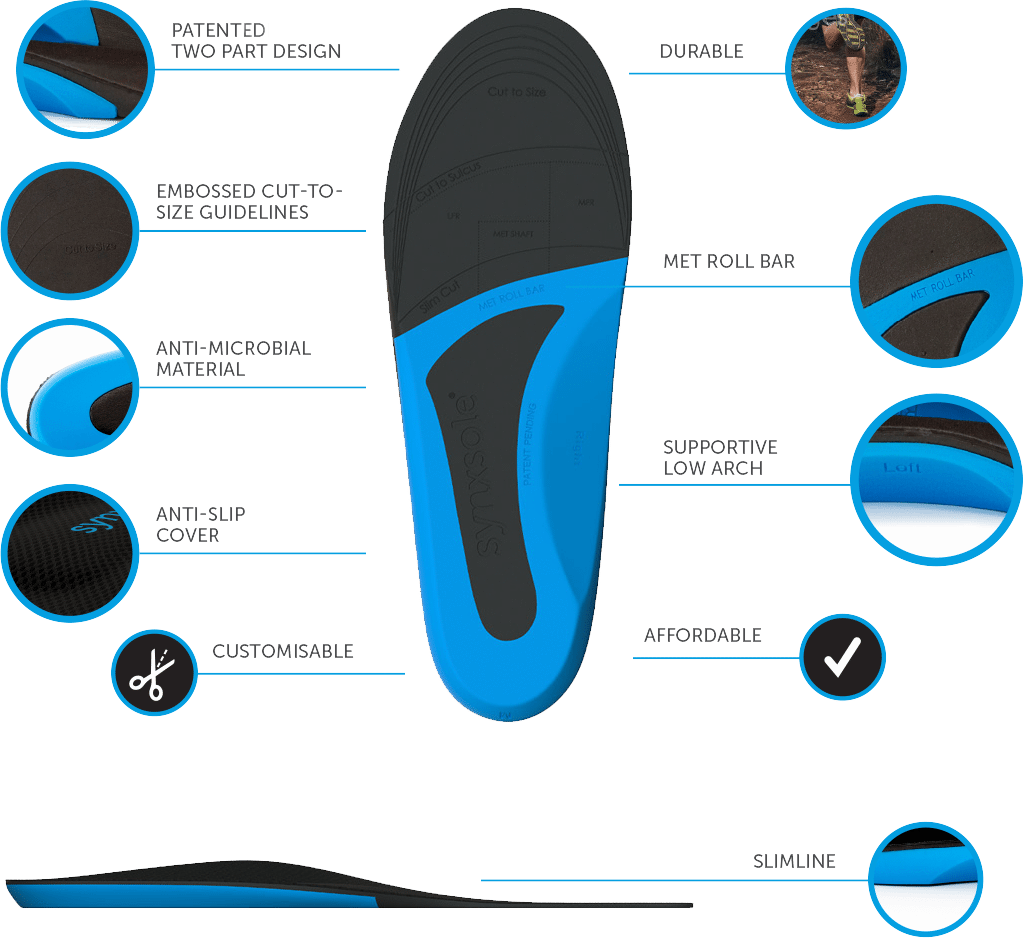 patented two-piece design
Featuring the Met Roll Bar allows Synxsole orthotics to be supportive, lightweight and slim.

met roll bar
Provides extra stability in the device so that it lasts longer.

slimline
Slim and supportive, the Synxsole orthotic can fit into a full range of footwear, from industry-compliant footwear and women's fashion shoes to trendy sporting shoes and boots.

supportive low arch
Allows your foot's arch to pass through its normal range of motion and provides control without excessive bulk.

reduced bulk
Our innovative design reduces the bulk usually associated with orthotics.

cut-to-size embossed guidelines
Embossed markings make it easy to trim your orthotic for an accurate and perfect fit. Find easy cut-to-size instructions here.

anti-slip cover
We have selected a cover material that reduces foot slippage within the shoe and maximises comfort.
anti-microbial cover
The anti-microbial properties of the cover material provide increased hygiene.

durable
Synxsole orthotics are constructed from premium materials for an optimum lifespan.

affordable
Synxsole orthotics provide a high-quality, affordable solution.

fully customisable
Synxsole Kids and Synxsole Everyday consumer orthotics have been designed for maximum effectiveness directly out of the box. However, if required, our design has the added benefit of providing customers the option of taking their Synxsole orthotic to a registered healthcare practitioner and have it easily customised according to their specific, personal needs.
Find a Synxsole registered practitioner here.
If you choose to have your Synxsole orthotic customised by a healthcare practitioner, you may be eligible for a rebate through your private health insurance company. Please check with your provider before purchasing.
WHY CHOOSE SYNXSOLE ORTHOTICS?
Because ultimately, your feet and your body will thank you!
COMMUNITY SUPPORT
As a company, we believe in giving back to the community.

Synxsole Pty Ltd actively participates in Community Support, providing sponsorship of charities as well as sporting teams
and events.
TESTIMONIALS
Word is spreading about the unique, quality solution Synxsole orthotics are providing for children and adults in their everyday work and sporting activities, as well as for healthcare practitioners in treating their patients' movement issues.
Read some of the reviews we have already received.